When you walk into Hawkeye Industries, Inc., you come into one of the most technologically advanced contract sheet metal component manufacturing companies in the South. Founder and President Bryan Hawkins believes in keeping up with technology and using it to benefit our customers.
Finding the right solution to make our customers more effecient and more profitable is Hawkeye's mission.
Visit us, and you'll see quality. Our people our quality. Teamwork creates the best products. Our machinery is quality. We use the right tools for the right jobs. Our work ethic is quality. We deliver a quality product becuase WE CARE!
TRUMPF TruLaser TUBE 5000 FIBER
Our TRUMPF TruLaser Tube 5000 fiber is truly a marvel. It's fast … really fast! It can handle bevel cutting up to 45º. Using "Flo-Drill" processing, holes can be tapped. It cuts tubes and profiles with incredible precision. The TruLaser Tube 5000 fiber can process tubes with thick walls, which is a great advantage for manufacturers. The possibilities offered by laser tube cutting technology mean that mechanical engineers can replace or optimize sheet metal designs. We find intelligent ways to combine tube and sheet metal construction techniques to make better products. Call us to come see this masterful machinery in action!
Our CNC flatbed laser cells are high-power solid-state fiber lasers for cutting a variety of sheet products.  It impresses, above all, in situations which require the combination of high power and maximum beam quality.  Hawkeye employs two flatbed lasers capable of cutting 60 in. by 120 in. sheets of 1.0 in. mild steel, .50 in. aluminum, and 0.50 in. stainless steel.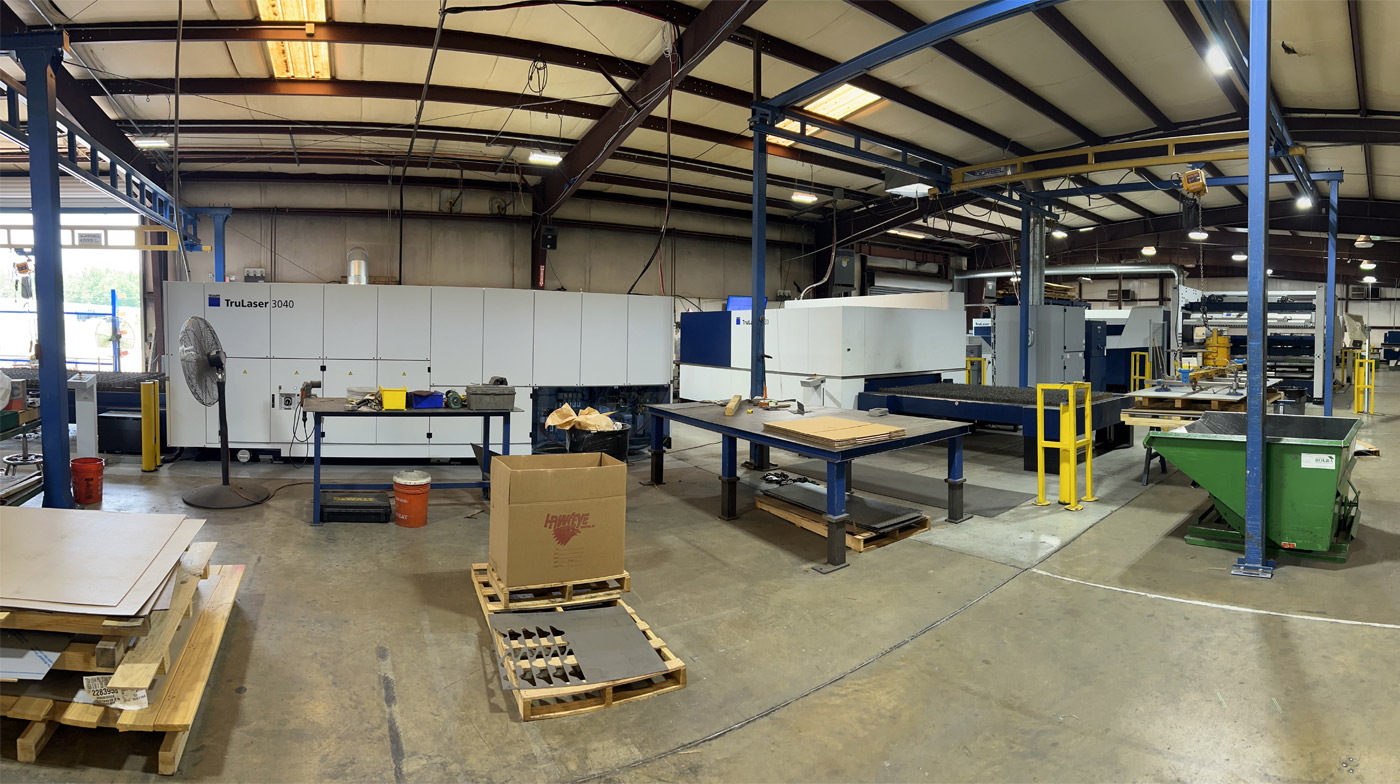 CNC punching cells offer limitless flexibility for punching a wide array of design features.  With a unique rotational head, all tools are indexable 360º at six revolutions per second.  Punching cells are fast and efficient with impeccable quality and repeatability.  We can make almost any special shape or forming configuration as well as tapping holes and integrated deburring.
CNC HYDRAULIC PRESS BRAKE
The CNC hydraulic press brake department painstakingly processing small and medium-sized parts to meet the requirements of our customers.  And, the operator checks each piece as it is completed, ensuring that all the parts are uniform.  By having the best machinery for our operators, you can be assured of the right level of quality control for the parts created.