CNC HYDRAULIC PRESS BRAKES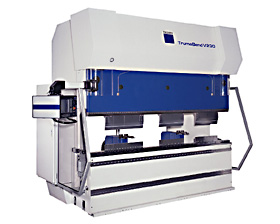 (7) HYDRAULIC PRESS BRAKES
Ranging in tonnages from 56 to 257 and bed lengths up to 120 inches. Hawkeye employs 7 hydraulic press brakes which offer the ultimate in CNC flexibility, productivity, and accuracy. We have every possible multi-axis configuration of back guages and tooling. All parts are pre-programmed offline using 3D graphics and maintained on a network for instant accessibility and ease of setup in order to minimize setup time and cost. All machines have quick change hydraulic tool clamping and a guaranteed/warrantied ram level of + or – .0004″. best in the industry.
TRUMPF V850
Our newest press brake a Trumpf V850 (June, 2005), is the second of its variety installed in the United States. It incorporates the lastest advancements in speed, productivity, and safety. The newly introduced laser guard replaces older version light curtains which guarantees a productive and safe forming environment.
CAD / CAM / ERP
Solid Works is our primary platform for importing and creating solid model designs. We also employ other CAD/CAM packages that can easily import most any customer design file in order to expedite the translation from design to manufacturing.
LEARN MORE
OTHER SERVICES
Assembly, Joining, Welding, & Fabricating are common manufacturing processes employed for a wide variety of customer applications. As always, Hawkeye seeks to employ the latest technologies and techniques for your competitive design and quality needs. Our most recent expansion greatly enhanced our capabilities in this area. Let us help you "value engineer" your assembly requirements through the time tested common sense approach to manufacturing. Hawkeye wants to be your "turn-key" supplier for your component assembly needs.
LEARN MORE